Our Residential Conveyancing team leader talks to Stray FM about the legal side of moving house.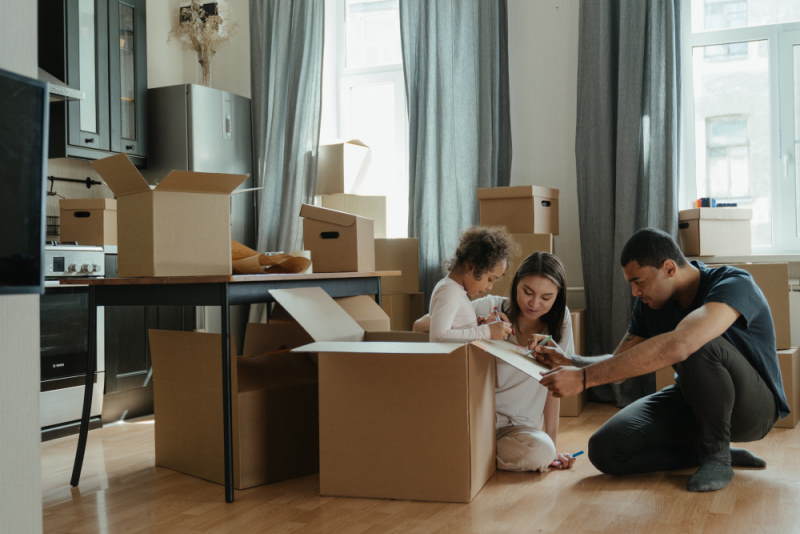 Rachel Brooks, a senior solicitor and our Residential Conveyancing Team Leader, talks to Stray FM (now Greatest Hits Radio) about her top five legal tips for moving house.
Transcript:
Presenter: I'm sure you have heard the rumour (or the fact, it's up to you to decide) before, that moving house is one of the most stressful things that a person can do. So, hopefully, it's not something you're having to do too often, but when you do, it's important to get some stuff right, particularly the legal side of it. So, from Newtons Solicitors I have Rachel Brooks. Hello, Rachel.
Rachel Brooks: Hi there.
P: Tell me a little bit about what you do with Newtons, then? What's your area of expertise?
RB: I'm in the residential property department, and I'm the team leader. So,  basically, I take on cases myself, I run people through their transactions, but I also lead the team from a management point of view as well.
P: So actually you're the perfect person to talk us through some of these residential legal tips that you've put together. The first thing that I said about it being really stressful, do you often find that people see the whole moving house process as quite a stressful thing to deal with?
RB: They do, because there's a lot involved and I think that because people are told that it is stressful, they go into it thinking it's going to be stressful.
P: I'm part of the problem, Rachel!
RB: *laughing* Yeah, exactly! Sometimes they go in expecting it to be stressful and then of course, sometimes it is, but other times they're quite surprised at how smoothly it goes.
P: So there's some tips then that you have put together, you and the team from Newtons. What are some of the bits of advice that you would give people who are about to move or are thinking of moving, maybe in the next year or so?
RB: Yeah so there's a few basic tips and things you can keep in mind if you're thinking of moving house, and this is from a legal point of view, once you've sold your house or you've found one that you want to buy and you've had an offer accepted, the first tip I would give is preparation.
This is the key, really, and it helps avoid delay. So when you're selling your house, make sure at the outset that you've got all your paperwork in order; this includes certificates for any works that you might have had done to the property, such as new windows, an extension, any guarantees that you might have, and from a buying point of view, what we'd say is try and get your survey booked as early on as possible, and make sure that your surveyor is on the panel of your mortgage lender too. That means if there are any problems with the house, which hopefully there won't be, you can get them ironed out so it doesn't cause delays further down the line.
P: So very much, kind of, as soon as possible-
RB: Yeah
P: -if you've got things to do, just get them done.
RB: Get them done. They need doing anyway, and it just saves time further down the line.
P: Okay, and another piece of advice?
RB: Another piece of advice if you're buying a house is just be clear on exactly what you are buying. Might sound obvious, but it's true. So visit the property that you're buying again before you commit to an exchange of contracts, check that the physical boundaries of the property correspond with the legal boundaries shown on the title plan.
After contracts have been exchanged, both sides are legally committed and it's then very expensive, if things aren't right, to try and put them right.
P: When it comes to how long a house move takes, is there a set time of how long that tends to be, or..?
RB: No, there isn't. We say, on average, it can be six to eight weeks, but that really is just on average. It depends how many people are in the chain, it depends the type of properties that people are buying and it also depends on people's wishes and intentions. They might not want to move very quickly, they might not be able to move very quickly, so I think it's important at the outset not to get too fixated with a specific date or time scale.
P: Okay, so patience probably is something that you will definitely need
RB: Patience, yeah. Definitely say that, I mean that's another tip, really, patience is definitely a virtue. You're buying your dream home and obviously you want to move in tomorrow, but you've got to realise the process takes time. A lot can change along the way and any date isn't fixed in any event until contracts are exchanged.
What I'd also say is think very carefully before you start issuing ultimatums to other people.
P: So would that be something, like if you thought, let's say for example I thought I was gonna be completing on the first of September and you say 'if we don't complete on the first of September, I'm out'. I'm done. That kind of- almost like a threat.
RB: Yeah, exactly, and it's a threat really, and people don't like threats and they'll say 'well fine, I'll put out now then to avoid you having to do that', so it can have that result.
What you've also got to consider is if the person doesn't then complete on the first of September, what are you gonna do? Are you going to follow that through and pull out, and cut off your nose to spite your face effectively, or are you then going to go back on your deadline and look a bit silly, sometimes. It's easy in the heat of the moment, y'know emotions running high, to do things like that but I think you've just got to calm down a bit and think about what you're saying and doing.
P: Okay. And another piece of advice from Newtons Solicitors?
RB: Another piece of advice, and again it sounds obvious, but be ready to move out on time. You've got to remember that on legal completion, that's when property ownership changes hands, so you've got make sure before that that you've got all your arrangements in hand so that you can move out of the property you're selling in a timely fashion on completion date.
You're also likely to be part of a chain involving a number of linked transactions, so delay by anyone in that chain has a knock-on effect during a busy and stressful day anyway.
P: When it comes to who is giving you the advice, you, Rachel, are from Newtons Solicitors, so that is one law company that can help people with the entire process, I guess, from putting in the offer to actually finally locking their front door at the end of moving day. How important is it to have somebody like that to ask all those legal questions to?
RB: It is important, and it's important again- preparation is to choose your team carefully and listen to their advice, and that includes obviously the solicitor, but also the estate agent and surveyor. It is, after all, the most important financial transaction most people ever make in their lives.
So yeah, choose your solicitor carefully. At Newtons, for example, we have a full team and you're designated that one solicitor throughout the whole transaction so you know who you're going to speak to, who's dealing with you, if you send them an email you know you're going to get a reply from that person.
P: I presume, I'm not sure if this is right or not, but if you are moving from house A to house B, the same solicitor can't be operating or working with both house movers.
RB: No, nowadays we're not allowed to act for both buyer and seller in a transaction. So if you're buying a house, there'll be a different firm of solicitors acting for your seller and there'll also be a different firm acting for your buyer, so there'll be separate firms representing the different parties.
P: Fastest finger first, then, if you want Newtons!
RB: Yeah, that's right, yeah.
P: So, Rachel, how should people get in touch and what's the first step if it comes to somebody buying or selling a property and using Newtons?
RB: First step is just give us a call or drop us an email. If you look on our website, all of the solicitors' details are on there including their direct dial numbers and their email addresses. So get in touch, give us a ring, we can talk you through it all, we can give you a quotation for the costs, and if you've got any queries, we can deal with those then and help you make what is a big decision.
P: Okay, Rachel Brooks, thank you very much, and good luck to anybody embarking on a house move over the next year. It doesn't have to be the most stressful thing that you do.
So, to summarise, here are Rachel's top tips for when you're buying or selling your house:
Be prepared.
Be clear on exactly what you're buying.
Be patient and don't fixate on a certain time scale.
Avoid issuing ultimatums.
Be ready to move out on time.
If you're looking to buy or sell a property, please see our conveyancing costs indicator or get in touch with our Residential Properties team today. We can assist and be a point of contact throughout the process.