Award-winning insolvency specialist Andrew Cawkwell and senior solicitor James McEwen both join the successful, Knaresborough-based firm as it opens its 11th office in the North East.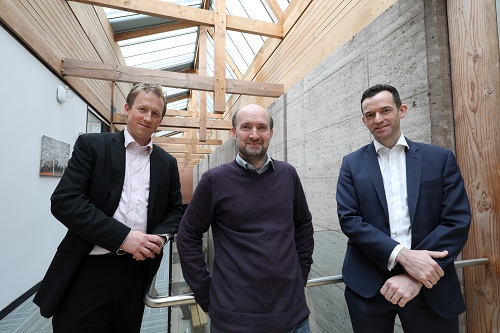 Andrew, (who grew up in York and is a graduate of Northumberland University) joins the professional, friendly team at Newtons from Muckles, where he was a Partner. James, who will be dividing his time between Durham and Darlington, was previously at Samuel Phillips Law Firm, where he was an Associate.
"We're thrilled to appoint Andrew and James, as we open our new office in Durham," says Chris Newton, managing director of Newtons Solicitors. "Andrew is recognised as a leader in his field and James is a senior commercial property solicitor, known for his excellent standard of client service. They not only bring key skills and expertise to the firm, but they fit in well with our culture and our strategy."
With a highly-regarded reputation for delivering practical, strategic advice to businesses in difficulty, Andrew is also renowned for being the first practising solicitor in the UK to become dually qualified as a certified turnaround professional.
Andrew Cawkwell, Director at Newtons Solicitors and Head of its Durham office, says: "I'm delighted to be joining such an energetic, accomplished firm. "We've got great plans to further expand the team and we're looking forward to working with businesses in the area and contributing towards the local community."
James McEwen, Senior Solicitor at Newtons Solicitors says: "I was attracted by the company's ambition and growth targets. So, I'm looking forward to the challenge of expanding Newtons' business into Durham as well as working in Darlington."
Expansion
The latest office move is part of Newtons considered expansion as it invests in its services to clients, builds its team and opens in new locations across the North East.
Andrew will be heading up the new office in Durham, based at the sustainable, eco-building, the Rivergreen Centre, owned by digital-only Atom Bank.
"The sustainable, innovative office space at the Rivergreen Centre is an ideal location for our forward-thinking brand," says Newton, of the eco-friendly, low-impact business space, where it is a tenant of Atom Bank.
Perfect fit
Not only are Newtons tenants of Atom Bank (which supported the establishment of the Rivergreen Centre) but the law firm has joined the panel of legal advisers to the state-of-the-art bank.
Chris Newton, managing director at Newtons Solicitors, says: "We're delighted to be building such a strong working relationship with Atom Bank. Our highly-responsive, advanced approach to business means we work well with ground-breaking brands like Atom Bank."