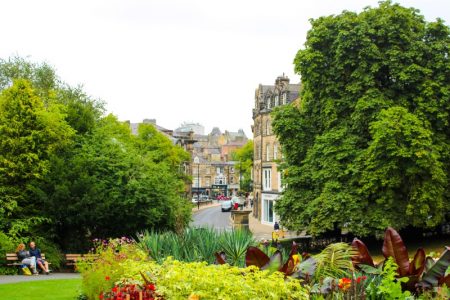 Harrogate is a picturesque Victorian spa town in North Yorkshire. Famed for its rich mineral water, the town saw an influx of visitors in the Victorian and Georgian eras that contributed to its wealth. This legacy is still apparent, with beautiful Victorian buildings across the town's centre and the old Royal Pump Room and wells very much a part of the shape of the town. Not to mention, Harrogate's town centre is flanked by green public spaces, including The Stray and Valley Gardens, which is just one of the reasons Harrogate consistently tops Rightmove's happiest places in the UK. Harrogate has featured in The Times' Best Places to Live, on seven occasions, including in 2022, and it's clear that living in Harrogate is looked upon favourably by more than just its residents.
So, what is life in Harrogate like? In this guide, we'll consider the best places to live in Harrogate, property prices and types, schooling, things to do and places to visit near Harrogate.
Life in Harrogate
What is the best part of Harrogate to live?
The most sought-after properties in Harrogate fall in The Duchy, an area encompassing Duchy Road and Cornwall Road. Around here, you can expect property prices  well in excess of  the million-pound mark, with terraces, semis and detached properties popular with buyers. Nearby Valley Drive and Cold Bath Road, both walking distance from the town centre and boasting cafes, bakeries and independents, are also considered among the top areas to purchase a home. A flat will set you back around £214,000, but terraced and semi-detached properties are also popular, with average prices around £520,000.
Just outside Harrogate are Pannal and Burn Bridge. Both set in the countryside, these quaint North Yorkshire villages offer residents pasture land views, babbling brooks and sheep and cattle for neighbours. With great links to Leeds and York, properties here are ideal for those looking for a little extra space. If you consider the move to Pannal, you can expect property prices around £528,000, with detached, semi-detached and terraced housing popular with buyers. The property market is similar in Burn Bridge, though house prices here are slightly more expensive, with the average property price coming in just shy of £800,000.
If living in Harrogate's centre is out of your price range, more affordable homes can be found in Starbeck, a regular Britain in Bloom contender with its own train station. It's within walking distance of Harrogate town centre, though property prices are markedly cheaper, with the average property selling for around £243,000 in the last year. Bilton is another popular area with several great schooling options. The average property price in Bilton is around £300,000, with terraced, semis and detached properties popular with buyers.
Is now a good time to buy in Harrogate?
While the average property prices are increasing across the UK, according to Rightmove, the overall sold price for property in Harrogate was down by 4% in the last year, suggesting that now is a great time to buy property in the area. If you're thinking of moving to Harrogate, please contact one of our local residential property specialists, who would be more than happy to help.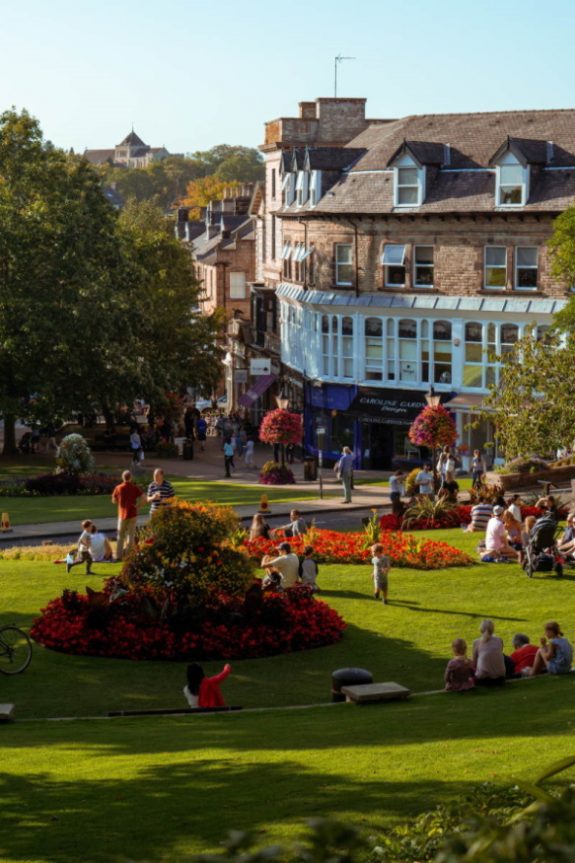 Schools in Harrogate
Living in Harrogate, you'll have several great schooling options in the town and surrounding areas, with both state and private grammar schools a commutable distance away. Look to Killinghall and Starbeck for primary school, or Harrogate Grammar, St Aidan's and St. John Fisher for high school and sixth form. Nearby, you have Queen Margaret's School for Girls, Ashville College, Harrogate Ladies' College and Brackenfield School for children of all ages with day and boarding opportunities available.
Harrogate Transport Links
Harrogate is a commuter's haven – with four train stations getting you across Yorkshire and beyond, living in Harrogate is a breeze. It's just over half an hour by train to both Leeds and York and operates a reliable bus service to the outskirts of each, including to Wetherby. Likewise, Harrogate makes travel to London easy, with direct services arriving in the capital in around 3 hours. You can find more information below:
Harrogate train station
Starbeck train station
Hornbeam Park train station
Pannal train station
Harrogate bus station
If you don't need to commute into the office every day, it's worth knowing that the town was voted the best place to live for remote working, thanks to its accessible green space, fast internet speed and the easygoing style of life in Harrogate.
Plus, Harrogate has great motorway links and many stunning surrounding villages suited to days out and weekend walks with the family or visiting friends. Less than 15 miles to the edge of the Yorkshire Dales and Nidderdale Area of Outstanding Natural Beauty, there's an abundance places to visit near Harrogate full of exciting adventures to be had.
Harrogate Crime and Safety: Is Harrogate a safe area?
Yes, Harrogate is a very safe area to live in. This is a popular question from new families or families with young children, and you can rest assured that Harrogate is the safest major town in North Yorkshire, according to the latest crime and safety statistics. It was also recently named the safest place for new families to set up in the UK.
What to do in Harrogate and places to visit nearby
Harrogate is known for its afternoon tea, Victorian history and the green spaces that fill the nooks and crannies of this old spa town. If you're wondering why Harrogate is a popular place to live and visit, you'll see plenty going on in the town itself and lots of places to visit near Harrogate. Below, we discuss some of our favourite things to do.
Celebrate Harrogate's history
The Royal Pump Room Museum and the several mineral spring wells that were vital to Harrogate's reputation as a spa destination holiday for Victorian and Georgian travellers are still dotted around town today. And, in 2007, a 10th-century Viking treasure was found nearby, making a day out in Harrogate fun for the whole family to enjoy!
Visit the Turkish Baths
The spa town's legacy lives on in the Turkish Baths, a 19th-century Moorish-style bathhouse in the centre of town that offers genuine Victorian Turkish bath décor in all its glory. So treat yourself to a spa experience or invigorate your senses in the cold plunge pool next payday.
Roam The Stray
The vast green space around Harrogate is called The Stray, and is 200 acres of grass parkland that dominates much of the town centre. Its ideal for a dog walk or a family picnic, or to simply stray on a lazy Sunday when living in Harrogate.
Explore Valley Gardens
Another beautiful green space in Harrogate is the Valley Gardens, a centrally located Grade II Listed gardens popular with Victorian holidaymakers back in the day. The gardens were integral to Harrogate's spa heyday, with several mineral springs still present to view today. Valley Gardens makes a great day out for families, with several themed gardens to explore and plenty of outdoor games facilities, including a playground and a tennis court. Next to this lovely location is The Pinewoods, a 17-acre woodland whose path leads you up to RHS Harlow Carr if you're feeling adventurous.
Enjoy RHS Harlow Carr
One of five RHS gardens in the UK, RHS Harlow Carr offers visitors a stunning display of designed gardens that 'reflect the Yorkshire landscape'. It's a perfect day out if you fancy a little potter about, no doubt ending up at the Bettys Café and Tea Rooms on-site. Speaking of…
Visit Bettys
A trip to Harrogate is incomplete without visiting one of the two Bettys in town. Bettys was established in Harrogate in 1919 and has been a high street staple ever since. So fill your boots at the Harlow Carr location or take a break from hitting the shops at the town centre café for afternoon tea, handmade treats and a fat rascal or two.
Peruse the Harrogate Food and Drink Festival
Harrogate Food Festival is one of the top non-music festivals in the UK. The festival celebrates local produce, independent drink, music and arts over an entire weekend, all from The Stray. It's definitely worth checking out!
Immerse yourself in Yorkshire's culture at The Great Yorkshire Show
The Great Yorkshire Show is an annual agricultural show based at the showground just outside central Harrogate. The show champions the farming industry and local produce, and has plenty of food and drink stalls to sample over the long weekend.
Eat your way around town
Harrogate's high street is the pinnacle of good food. Brunch lovers can rejoice from Scandi-inspired goodness at Baltzersen's to plated perfection at The Wild Plum, and you can't forget No.35 on Cheltenham Crescent, a local favourite, for a quick coffee pitstop. If you fancy a chippy tea, there's Catch, promising fresh and high-quality ingredients. Or, look to the Orchid if you're more about the spice.
Shop along the Harrogate high street
Harrogate's high street is filled with shops and arcades to explore. From chains like Primark and Marks and Spencer, to independent shops like Sophie Likes and Space Vintage and Retro, there's somewhere for everyone to enjoy browsing.
Walk Nidderdale AONB
Visit Nidderdale Area of Outstanding Natural Beauty (AONB), less than 15 miles away and described as a quiet dale that lets its stunning scenery do the talking. With moorland, river valleys, and rolling hills giving way to quaint Yorkshire towns, a day out in Nidderdale should be top of your list of places to visit near Harrogate.
Explore Brimham Rocks
A trip to Brimham Rocks is a fun day out for all of the family. With over 19 water- and weather-eroded rock sites left in unique shapes, such as the Dancing Bear, this National Trust property is fit for a full day of exploring.
Relax at Rudding Park
Need a bit of a break? Rudding Park luxury hotel and spa is set in 300 acres of landscaped gardens, offering the perfect escape from the day-to-day. It's well worth a visit with an on-site golf course and acclaimed 3 AA Rosette Horto Restaurant.
Down a tipple at The Fat Badger
Catch a drink at one of Harrogate's favourite pubs, The Fat Badger, with AA rosette dining and pub food on the menu, complemented by wines, gins and beer.
Boogie at the Blues Bar
The Blues Bar on Montpellier Parade is open from 9.30 til late every day and offers a full live music events calendar and a range of beverages to suit all patrons – it's a location fit for a boogie, for sure!
Potter over to Knaresborough
Nearby Knaresborough should be high up on your list of places to visit near Harrogate, with its infamous viaduct and iconic rowboats. Or, for a unique day out, consider England's oldest tourist attraction and home to the most famous Prophetess, Mother Shipton's Cave.
Why is Harrogate the happiest place to live?
Harrogate has a buzzing high street filled with independent shops, bars, restaurants, and a great social scene. Local favourites include Stuzzi, the Farm Bistro, or Three's A Crowd for good grub and a tipple that won't disappoint. Many residents talk favourably of the availability of green space in the town, including The Stray, Valley Gardens and The Pinewoods, all popular for a weekend stroll or evening dog walk.
We hope we've won you over with our guide to living in Harrogate, and that you'll enjoy living and working here as much as we do. At Newtons Solicitors, we understand that deciding to move can be quite a big deal, and choosing your solicitor even more so. We pride ourselves on being the local experts in the Harrogate area, serving from the heart of the communities we're based and promising our new and existing clients a long-lasting, trusting partnership. So, if you're ready to get started, please get in touch with our team of conveyancing experts or learn more about us.