Newtons Solicitors Goes Carbon Neutral
Newtons Solicitors Goes Carbon Neutral
We're delighted to announce that Newtons Solicitors is officially a carbon neutral business.
We're proud to be taking serious steps towards reducing our impact on the planet and will continue working towards a greener and more eco-friendly working environment.
Sustainability is a cornerstone of modern business practice and one that we believe in wholeheartedly. When you choose Newtons Solicitors, you're working with a company committed to acting on climate change.
What Does Carbon Neutral Mean?
Carbon neutral is a term used to describe a company that has:
reduced its carbon emissions as much as possible; and,
offsets the remaining emissions to balance it out – for example, by investing in emission-reducing initiatives and projects.
How Has Newtons Achieved Carbon Neutrality?
First of all, we measured the amount of carbon that our business generates each year. There are various online tools to help you do this. The calculation is based on energy bills, commuting to work by our team and the types of cars driven.
Next, we looked at how we can reduce our carbon footprint:
Solar Panels
We have installed solar panels and are now waiting to install batteries to store the electricity generated by our panels when the office is closed.
Electric Vehicles
We have installed 10 electric car chargers and, to encourage our team to switch to electric vehicles, we have introduced a very tax-efficient electric car leasing scheme through Tusker. The employee pays for the car out of gross income using "Salary Sacrifice", saving tax and NI. We have also said that we will allow free charging at work. The take up has been very positive, with more people waiting for cars to be delivered.
Green Suppliers
We choose green energy suppliers. Our previous plastic pens are now made out of sugarcane and our loo rolls are made from bamboo rather than paper!
Carbon Offsetting
Having calculated that we produced 70 tonnes of CO2 each year, we then looked at how we could offset this. We have taken two approaches here.
In order to become certified carbon neutral, we have invested in a registered carbon offset project. The schemes offered were typically in South America, Africa or Asia. We have invested in the Keo Seima Wildlife Sanctuary in Cambodia, supporting work to protect forests, indigenous cultures and vulnerable wildlife. The amount that you invest is fixed depending on the amount of carbon that you want to offset.
I couldn't help thinking that these schemes were too remote, albeit necessary in order to become certified carbon neutral. I'll probably never see the sanctuary, and I wanted to feel as though I was making a positive difference to our environment closer to home.
We, therefore, decided on a tree planting project in order to offset our carbon. A quick Google search tells me that we need to plant six or seven trees for each tonne of carbon. We're planning on planting 500 trees when the next tree planting season starts (November to March) in a field that we've purchased just off the York Ring Road which should more than cover our carbon footprint. There are various places that will enable you to plant trees without owning the land.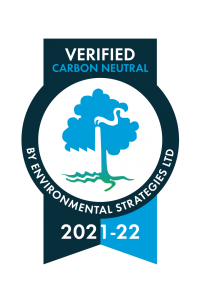 We worked with a local company called Environmental Strategies Ltd, which audited our energy use and assessed our carbon footprint before offering us various international carbon offsetting projects. As a result, we are certified as carbon neutral in Scope 1 and 2, which covers emissions from sources we own or directly control and emissions that occur when the energy we use is produced. Our assessment and certification will be annual going forwards whilst we continue working to reduce our footprint.
I believe that as a successful business we have a responsibility to do what we can to protect our planet and to lead by example. I don't believe that we have to be extreme in the changes that we make, but if everyone made changes that they're comfortable with and can afford, then we will head in the right direction.
I'm happy to share more details of this project with anyone who is interested in doing something similar so please don't hesitate to get in touch to discuss this, or if you would like to instruct one of our solicitors.
– Chris Newton