Meet Clare Presley, a Private Client Specialist at Newtons Solicitors.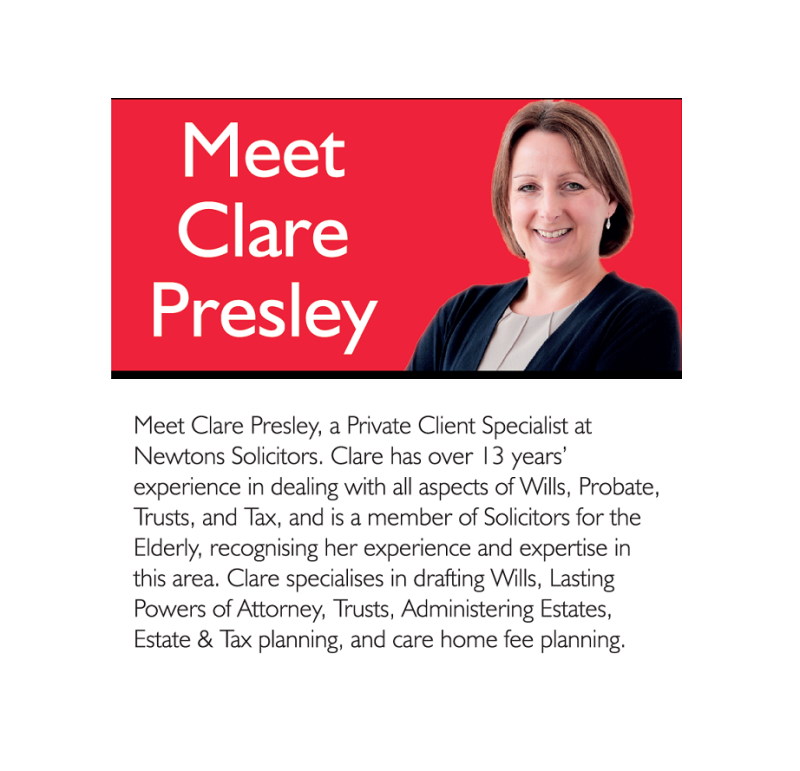 Clare has over 13 years' experience in dealing with all aspects of Wills, Probate, Trusts, and Tax, and is a member of Solicitors for the Elderly, recognising her experience and expertise in this area. Clare specialises in drafting Wills, Lasting Powers of Attorney, Trusts, Administering Estates, Estate & Tax planning, and care home fee planning.
Clare finds dealing with Probate, administering estates, Court of Protection work, and Trusts drafting very satisfying; co-ordinating plans to best provide for families and future generations in the most tax efficient way possible, while still providing security and access to money for the older generation.
Another area Clare gains great satisfaction from is working as an Attorney for clients, and assisting with moving into residential care.  There can be a lot to sort out at this stage, from the practicalities of house clearance and sale, through to the organising of finances and investments to best pay for the care.
Clare is a firm believer in an holistic approach and her aim is for clients to leave her feeling relieved and having peace of mind that all their legal matters are in order. An experienced solicitor, Clare offers solutions tailored to you. Doing this work day in and day out means we've seen the pitfalls and it's Clare's job to guide you through them.
So, if you need help and advice in any of these areas contact Clare today on 01904 409071. Our York office has ample parking and is easily accessible.
Newtons Solicitors – When you need us, we're with you every step of the way at Northminster Business Park in Poppleton.