Are you guilty of putting your head in the sand when considering later life? Perhaps the New Year is the time to get organised.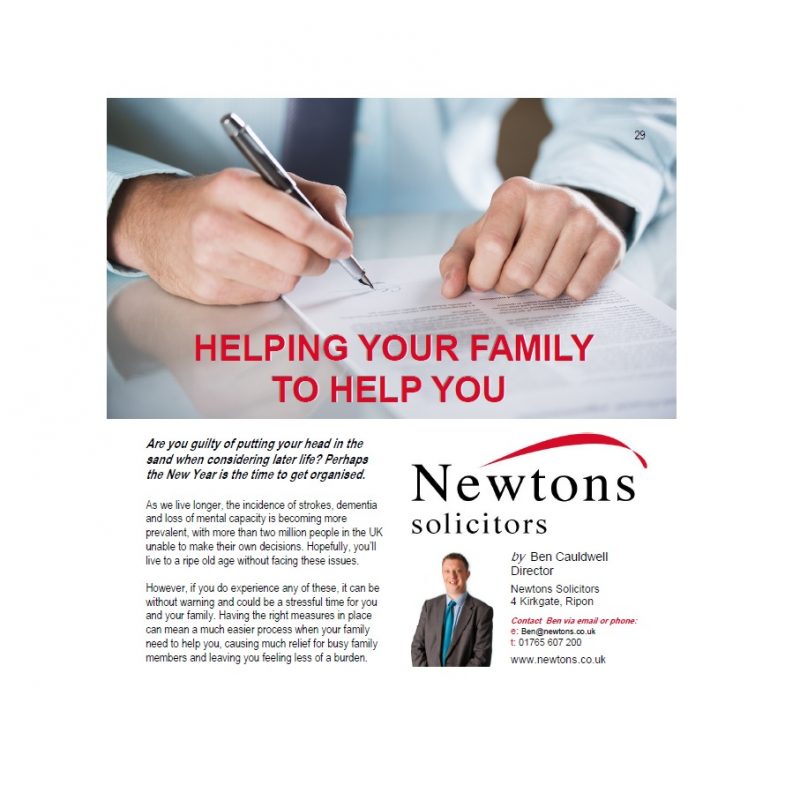 As we live longer, the incidence of strokes, dementia and loss of mental capacity is becoming more prevalent, with more than two million people in the UK unable to make their own decisions. Hopefully, you'll live to a ripe old age without facing these issues.  However, if you do experience any of these, it can be without warning and could be a stressful time for you and your family.  Having the right measures in place can mean a much easier process when your family need to help you, causing much relief for busy family members and leaving you feeling less of a burden.
Lasting Powers of Attorney (LPAs)
This is where Lasting Powers of Attorney (LPAs) can help, and I believe they are possibly more important than a Will, as they help you during your lifetime, if necessary.  LPAs enable you to nominate people to make decisions on your behalf if you become unable to, or act for you if you are hospitalised or immobile. There are two types of LPA: one for financial matters and one for health and welfare decisions.
My extensive experience of preparing LPAs for clients means I can help you find solutions to suit your particular circumstances, including who to choose as Attorneys, and how they should act together.
Think of LPAs like insurance; you may never need them, but if you do, and you don't have them, the consequences can be pretty dreadful.  Without an LPA, if you lose mental capacity to make decisions, somebody would need to apply to court, which is a lengthy, expensive and intrusive process for your loved ones to undertake.
So, take that first step towards reassurance and relief and contact Ben Cauldwell at Newtons Solicitors in Ripon on 01765 607200.
Newtons Solicitors – When you need us, we're with you every step of the way!