Newtons Solicitors is a growing regional law firm with ten offices throughout Yorkshire, Cumbria and the North East, offering legal expertise across a range of specialist areas.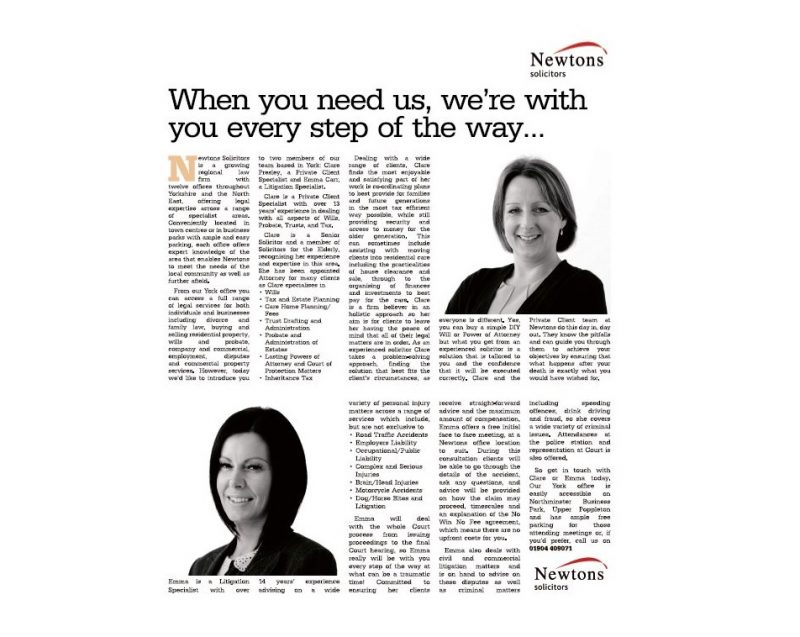 Conveniently located in town centres or in business parks with ample and easy parking, each office offers expert knowledge of the area that enables Newtons to meet the needs of the local community as well as further afield.
From our York office you can access a full range of legal services for both individuals and businesses including divorce and family law, buying and selling residential property, wills and probate, company and commercial, employment, disputes and commercial property services. However, today we'd like to introduce you to two members of our team based in York: Clare Presley, a Private Client Specialist and Emma Carr, a Litigation Specialist.
Clare is a Private Client Specialist with over 13 years' experience in dealing with all aspects of Wills, Probate, Trusts, and Tax.
Clare is a Senior Solicitor and a member of Solicitors for the Elderly, recognising her experience and expertise in this area. She has been appointed Attorney for many clients as Clare specialises in
Wills
Tax and Estate Planning
Care Home Planning/Fees
Trust Drafting and Administration
Probate and Administration of Estates
Lasting Powers of Attorney and Court of Protection Matters
Inheritance Tax
Dealing with a wide range of clients, Clare finds the most enjoyable and satisfying part of her work is co-ordinating plans to best provide for families and future generations in the most tax efficient way possible, while still providing security and access to money for the older generation. This can sometimes include assisting with moving clients into residential care including the practicalities of house clearance and sale, through to the organising of finances and investments to best pay for the care. Clare is a firm believer in an holistic approach so her aim is for clients to leave her having the peace of mind that all of their legal matters are in order. As an experienced solicitor Clare takes a problem-solving approach, finding the solution that best fits the client's circumstances, as everyone is different. Yes, you can buy a simple DIY Will or Power of Attorney but what you get from an experienced solicitor is a solution that is tailored to you and the confidence that it will be executed correctly. Clare and the Private Client team at Newtons do this day in, day out. They know the pitfalls and can guide you through them to achieve your objectives by ensuring that what happens after your death is exactly what you would have wished for.
Emma is a Litigation Specialist with over 14 years' experience advising on a wide variety of personal injury matters across a range of services which include, but are not exclusive to
Road Traffic Accidents
Employers Liability
Occupational/Public Liability
Complex and Serious Injuries
Brain/Head Injuries
Motorcycle Accidents
Dog/Horse Bites and Litigation
Emma will deal with the whole Court process from issuing proceedings to the final Court hearing, so Emma really will be with you every step of the way at what can be a traumatic time! Committed to ensuring her clients receive straight-forward advice and the maximum amount of compensation, Emma offers a free initial face to face meeting, at a Newtons office location to suit. During this consultation clients will be able to go through the details of the accident, ask any questions, and advice will be provided on how the claim may proceed, timescales and an explanation of the No Win No Fee agreement, which means there are no upfront costs for you.
Emma also deals with civil and commercial litigation matters and is on hand to advise on these disputes as well as criminal matters including speeding offences, drink driving and fraud, so she covers a wide variety of criminal issues. Attendances at the police station and representation at Court is also offered.
So get in touch with Clare or Emma today. Our York office is easily accessible on Northminster Business Park, Upper Poppleton and has ample free parking for those attending meetings or, if you'd prefer, call us on 01904 409071