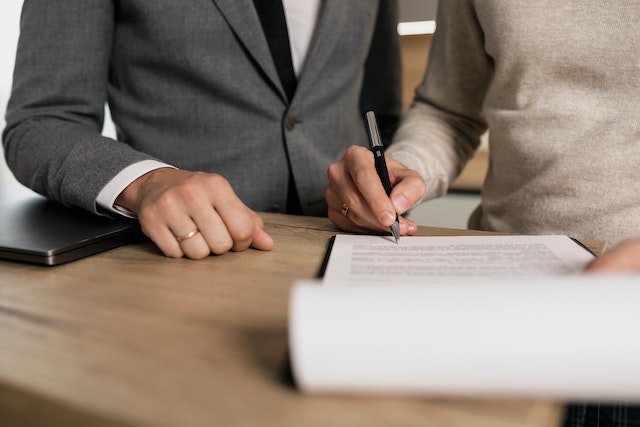 Here at Newtons Solicitors, we know that being served with divorce papers can be overwhelming, as this application symbolises the start of the divorce process. Knowing how to respond to a divorce application and where to start in this emotionally challenging process isn't always easy.
Our team of family law specialists know how to deal with conflict regarding divorce and separation, and they're here to talk you through where you stand with this process and what you need to do next.
How can I respond to a divorce application?
Being served with divorce papers can be challenging, but you must address it in the right way. How you respond to the divorce relies upon how your ex-partner applied for it and whether you have the backing of a solicitor. Let's look at the different options in closer detail:
In this digital age, more and more divorces are operating online. If your proceedings notice has an access code, you'll need to respond online and create a digital account. The deadline for your response is two weeks from getting your proceedings notice, as of 6th April 2022. Before this, the deadline was one week. However, if a solicitor is representing you, you will not be able to respond online.
You can to respond to a divorce application by post if you are unable to do so online. You must post your acknowledgement of service within two weeks of getting news of the proceedings. This became law on 6th April 2022 – like online responses, the deadline before the law changed was just one week.
Do I need to respond to divorce?
Failing to respond to a divorce application will not stop the divorce from going forward. The Court or the applicant could deliver the papers to you personally if you don't respond by the deadline to ensure there is evidence that you have received them – and you may be ordered to cover the cost of this.
Responding to a divorce petition will enable you to offer your position on your divorce to the Court.
I don't agree with the divorce – can I challenge the application?
Since 6th April 2022, with the introduction of the no-blame divorce, spouses are no longer allowed to dispute a divorce and can only disagree with it if there is a legal reason, such as if the marriage was never valid in the first place. You can seek more information about the legal grounds on this form, which the respondent would have to fill out.
If you believe that some of the divorce details are incorrect, you can request that amendments be made. To do this, it would be worth reaching out to your ex-partner or their legal representative. Following the modifications, you may have to pay a fee to alter the paperwork.
What are the different options for serving a divorce, and what happens if your husband or wife doesn't respond to the divorce?
Due to the new no-fault divorce law, your ex-partner cannot dispute your divorce petition. This means that they are not able to prevent the divorce proceedings from occurring, even if they don't want to get a divorce.
There are several different options for serving a divorce. Let's take a look at them below.
Use a process server or court bailiff
Process servers are efficient and generally try to serve the respondent as soon as possible to speed the process up. They are typically used if you have hired a solicitor to assist you with the divorce following the respondent not filing an Acknowledgement of Service Form.
If you are not working with a solicitor, you can serve your divorce application through a process server if your ex-partner doesn't respond to the divorce within 14 days of it being posted. The process server will serve your ex-partner personally.
Once the process server or alternative has served your ex-partner, they will present the court with a Certificate of Service to prove that they have carried the service out. After this, you can fill out an application for a Conditional Order without the requirement of acknowledgement from your ex-spouse.
You can request a deemed service from the Court if you are confident that your ex-partner has received the application for divorce and is simply ignoring it. In this process, you request that the Court accepts the ex-partner has acquired the papers, despite their lack of acknowledgement.
You must be able to prove your ex-spouse has received the application. For example, you could do this by presenting e-mails or messages which show that your ex-partner is aware of the papers.
Apply to dispense with service
If you cannot serve your divorce application on your ex-spouse because you do not know their address, you are still able to apply to the Courts to dispense with service. To apply, you must showcase to the Court that you have made a strong enough effort to find your ex-partner through all different kinds of methods, including online, workplace, and mutual friend routes. After doing this, the Court will then determine if you can dispense with service and move on to the Conditional Order without the respondent's input.
How long must you wait before being able to finalise the divorce yourself?
If your spouse isn't responding to your divorce application, you may face a delay in divorce proceedings. However, the no-fault divorce law means that once service requirements are satisfied with the Court, you can make an application for a Conditional Order 20 weeks following the first filing. Following six weeks and one day from the Conditional Order, you can make a Final Order of Divorce application. This procedure will go ahead even if the spouse doesn't agree with it, providing all the right steps have been carried out.
How can Newtons Solicitors help?
Whether you are being served with a divorce or struggling to deal with an ex-spouse who is ignoring your application, we can assist you through this and help you get the most beneficial results.
If you are searching for legal guidance from one of our dedicated family law solicitors, please do contact us today.