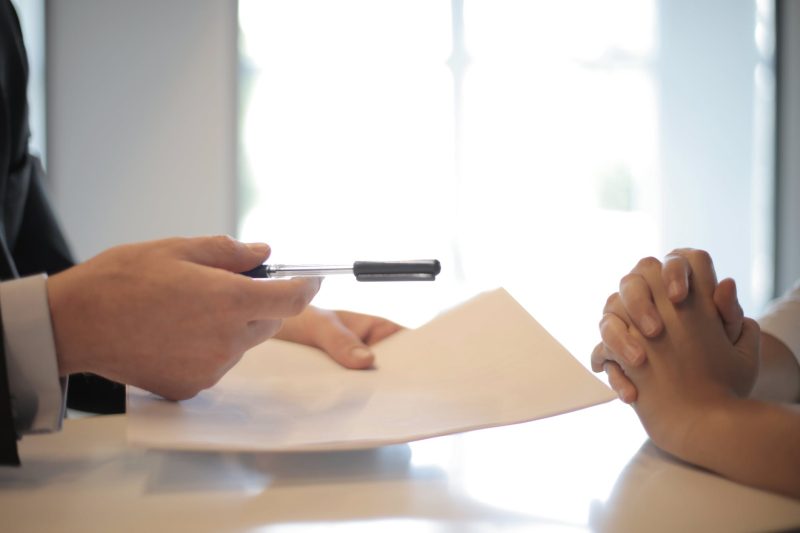 As an employer, it's vital that you have a written employment contract in place for all staff. An employment contract is a legally binding agreement between employer and employee and it covers a lot of areas as a matter of law. What's more, you should regularly undertake employment contract reviews to keep your business protected and in compliance with legal regulations.
What does an employment contract include by law?
Written employment contracts need to cover certain points as a matter of law, including:
Job title / brief description of duties
Pay rates and intervals
Pay dates
Holiday
Pension arrangements
Place of work
Notice periods
Name and address of employer and employee
Hours of work
Requirement to work overseas
Sickness and absence pay
Disciplinary and grievance procedures (or information on where to find out the process for these)
These areas are known as 'express terms'. If you do not have this information clearly stated in an employment contract, you will be at risk of legal claims and your business will not be protected.
What additional clauses should be included in an employment contract?
We would always advise employers to think about additional clauses which can provide essential protection to your business. These could include:
Deductions from wages: It´s useful to be able to deduct money from an employee's wages (e.g. loans, overpayments, non-return of company property), but you must have an agreement in writing in place first).
Flexibility: Wording in the contract can allow you to require employees to carry out alternative duties or work from different locations, giving you more flexibility when necessary.
Holiday pay and sick pay requirements: Your contract can make clear that employees must meet certain requirements to be able to take company sick pay or some ability to manage when holidays are taken.
Confidentiality: Your company´s business information is a key asset, but should have a written agreement in place to protect what an employee does with that information after they have left – without it, they could use that information to help your competitors or to set up in competition against you.
Directorships: It´s a good idea to have extra clauses in contracts for senior managers and directors dealing with the additional requirements of those roles.
Pay in lieu of notice and/or garden leave: Where an employee is leaving, these clauses are extremely useful to minimise disruption, both for your business and your important clients.
Restrictive covenants: It is perfectly possible to include reasonable restrictions about what your employees do after they finish working for you (for example, not to contact your clients and suppliers and not to use your business secrets), but only if you've got the right wording in a written agreement.
Expenses: You can specify which work-related expenses will be covered by the business, including when the employee will be reimbursed and what the process for this is. Specifying this in your employment contract will reduce the risk of fraud or errors if you make it clear that proof of payment is required.
Probation period: A probation period is designed to protect you if your new recruit isn't right for the role. A well-written probationary period clause will help to manage expectations and avoid having to pay a full notice period if it quickly becomes apparent that the employee isn't a good fit within the business.
Social media and employment policies: This could stipulate what social media activities employees can do in the employers name and time.
What is an implied term?
Implied terms in an employment contract are unwritten terms that are too obvious to be included in the contract. Nevertheless, they are still part of the agreement. Some examples of implied terms include:
Mutual Trust and Confidence: You and your employee are expected to be honest toward one another as to not compromise mutual trust. You are also both expected to act with respect toward one another. For example, as an employer you are expected to investigate grievances or complaints properly. Likewise, an employee is expected not to misuse company resources.
Duty of Care: As an employer you have a responsibility to ensure your employee's health – both physical and mental – is looked after throughout their employment. For example, you need to ensure the working environment is safe.
Fidelity: Employees should not act against the interest of the employer during their employment. For example, your employee should not misuse your company's contact database. The duty of fidelity term is only applicable during the employment period, not afterwards. To prevent employees from acting against your business after they've left the company, you'll need clearly stated restrictive covenants included in your employment contract.
Obeying 'Reasonable' Instruction: Employers are expected to obey lawful, fair and 'reasonable' instruction from their employer. There is no legal definition for what constitutes as 'reasonable, however it should be within the employee's capabilities (in terms of their job role).
When does an employment contract begin?
An employment contract will begin once an employee starts work, even if the employment contract is not in writing yet. However, employers are legally required to have written terms and conditions in place for all staff within 2 months of them starting.
If you fail to do so within this time period, you will be at risk of legal claims and your business will not be protected.  You might also find it more difficult to manage situations than if a clear contract had been in place.
There are occasions where the employment contract can begin even before the employee's start date:
If the job offer is accepted verbally or in writing
If the offer was unconditional or the person met all the conditions of their job offer (e.g. provided appropriate references)
When should you carry out an employment contract review?
It's highly advised for employers to regularly undertake employment contract reviews to ensure they are complying with regulations and are keeping their business properly protected with up to date clauses reflecting current working practices.
Changes to legislation happen regularly. For example, the removal of employment tribunal fees in 2017, the GDPR regulations that came into play in 2018 and the end of the Brexit transition period in 2020 all had an effect on employment practice  that could require an employment contract review.
If you need to change an employee's contract, you must provide the employee with enough notice, put the changes into writing, and request a written agreement from your employee. To finalise the changes, you can either provide your employee with a new contract or an informative letter.  In practice, contract amendments are far easier at pay review time!
Specialist lawyers to review an employment contract
If your employment contracts are in need of review or makeover, the employment law team at Newtons would be delighted to help. We won't just provide you with a standard template, but we'll meet with you to talk about what will work best for your business and for the types of employees you have and prepare something tailored just to your requirements.
We're upfront about our pricing and will agree a fixed fee for your employment contract review before we start any work.