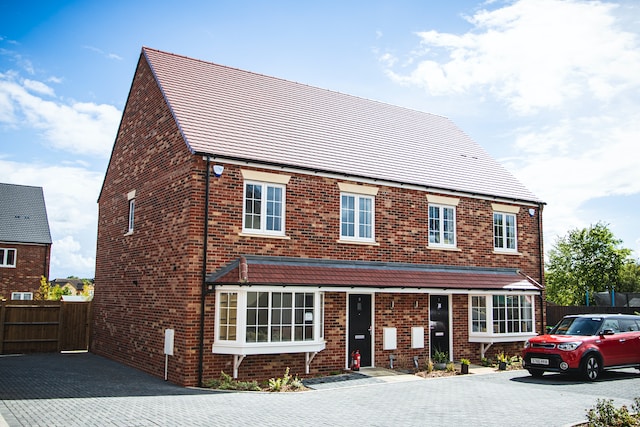 If you're planning to buy residential property, you should know that certain factors can affect how long it takes to buy or sell a property. This process can be lengthy and complex, so it's vital to be aware of the meaning of chain-free and how this can affect your purchasing process.
In this guide, we're here to explain what 'chain-free' means in property and how long it might take to buy a house with no chain.
What does 'chain' mean in property?
A chain refers to connected property purchases dependent on each other for a successful result – typically, it refers to the buyer needing to sell their current property, as they will use the funds from that sale to buy their new property.
The chain will typically involve the individual you are selling your property to and the individual you are purchasing a property from.
There are many ways to minimise the impact of a chain – some homeowners choose to rent for a short time after selling their property, allowing them to break the chain and start fresh when they buy their next property.
We'll take a look at some examples of buying a house with no chain on one or both sides below.
How does having a chain impact buying or selling a property?
Having a chain can undoubtedly delay the conveyancing process and can even deter you from purchasing property if you are unsuccessful at selling your current one. Similarly, a chain-free offer might be more attractive to a seller.
With a chain, you can expect the process to take anywhere from 12 weeks to six months. The basic process for purchasing property is typically as follows:
Saving for a deposit
Finding the perfect property and getting an offer accepted
Instructing a conveyancer
Securing a mortgage
Conducting a property survey
Exchanging the contracts
Completing the contracts
Moving in
How long does it take to buy a house with no chain?
While personal circumstances and extra complications may arise in chain-free buying, this method typically creates a much shorter conveyancing process. Without a chain, the conveyancing process could be slashed to as little as four weeks, as buying the property doesn't depend on other transactions. This means the buyer doesn't have to wait for external transactions to be completed, and there is less risk of encountering delays.
There is no way to determine exactly how long it would take to buy a house with no chain, as there are many factors that could impact the length of the process. This is why it's important to ensure you have a solicitor or conveyancer that is communicative and well-experienced in the conveyancing process, to minimise any delays.
Is the chain length significant in its impact on the buying/selling process?
In short, yes. The longer the chain is, the more considerable effect it can have on the whole transaction. Unsurprisingly, this can introduce complications and challenges into the process, as there is a greater risk of delays.
What's the difference between 'onward chains' and 'upward chains'?
You may have heard the terms 'onward chains' and 'upward chains' being used in the conveyancing process, but what do they actually mean? While both chain types increase the risk of delays and complications in the process, they have a few crucial differences you should be aware of.
An 'onward chain' describes the transactions after you have sold a property and want to buy a different one. During these circumstances, the individual is a seller first before becoming a buyer. The success of the second transaction relies on the success of the first one. After all, if the sale of your first property is subject to delays and complexities, this could impact your ability to secure the second property's purchase.
On the other hand, the term 'no onward chain' means that the individual selling the property doesn't need additional money to move into another house. While most chains typically involve a seller depending on the property sale to move into another one, in a no onward chain sale the seller has no additional commitments.
An 'upward chain' is a term that refers to the sellers of the home you want to purchase and describes the transactions that happen when an individual is buying a new property and selling their current property. During these situations, the individual is a buyer in the current transaction and a seller in the following one. The smooth progression of the upward chain is critical for the individual to move into the new property.
A 'no-upward chain' means that the individual wanting to sell a property is not searching to purchase another one, meaning they will be right at the top of the chain.
What factors mean a property might be chain-free?
You can identify a few examples of factors that may mean a property is chain-free since it is not involved in an upward or onward chain on one or both sides.
First-time buyers don't have any other property to sell in order to make a new purchase.
If the property is currently not being used, it is more likely to be chain-free. The sellers are often not linked to another property sale, meaning that no other transactions need to be carried out before the deal can proceed. For example, buy-to-let landlords often sell empty houses which aren't their primary residence.
Cash buyers may be chain-free if they can afford to buy a property outright without needing to secure a mortgage. This can further reduce delays.
New build properties are frequently chain-free because they are often sold by developers who don't depend on other property sales. Despite this, a chain may exist on one side if potential buyers must sell their existing properties to pay for the new build.
A property could be chain-free if handed from one individual to another in inheritance or probate. In these circumstances, property is generally sold after its original owner has passed away.
How Newtons Can Help
Our team is well-practised in guiding clients through residential conveyancing and helping them understand the importance and meaning of being chain-free or subject to a chain in this process. We can also offer the best legal tips for moving house to ensure your conveyancing experience is successful.
Please contact us for more information today.