Local businesses are grabbing their needles and yarn and heading to Newtons Solicitors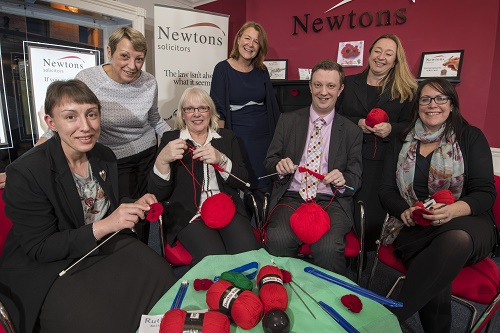 The law firm hosted an evening with 20 people from local businesses, from gift shops to butchers and architects to estate agents, to come and knit with the Newtons staff as part of a local initiative to knit 35,000 poppies.
The poppies will line the parade route through the city from Spa Gardens to the Cathedral to commemorate the centenary of the end of the Great War. A band of knitters – right across Ripon – is hard at work and the initiative, coordinated by Councillor Stuart Martin, is gathering support from the community.
Newtons is delighted to be an official distributor of the wool for the poppies and a collection point. The law firm is welcoming everyone to pick up their supply of wool from their office on Kirkgate and drop off their finished poppies too.
"We've had a fantastic response from local businesses to the invitation to our first knitting event," says Christine Langthorp, legal secretary at Newtons Solicitors: "We're keen to help local businesses work together, as the whole community prepares for the Remembrance commemorations."
In fact, the idea of the event has been so popular, that Newtons may host further evenings to continue with the preparations. Opportunities like these are a positive way of helping businesses join together, as Ripon prepares to honour those who lost their lives in the First World War.
"We were delighted to invite local businesses to come along to our knitting event," says Ben Cauldwell, director of Newtons Solicitors. "We want to help everyone to be a part of the WW1 Remembrance commemorations. So please let us know if you're interested in joining us for future events."